Founded in 2014, SINCEVISION is headquartered in Nanshan District, Shenzhen. It is a high-tech enterprise focusing on the R&D and production of industrial sensors.

Since our establishment, with 3D industrial sensors as our starting point, we have launched a number of product lines including line laser, point laser, and point spectrum lines. Dozens of product series have now entered the stage of mass sales. At present, the company's mass-produced products have broken the foreign monopoly in the field and become the market leader among domestic brands. In addition, some of our mature products, represented by line lasers, have achieved globally leading performance parameters, and we have gradually become a new benchmark enterprise leading industry development.

Today, the SINCEVISION brand has gradually become well known to people in the automation field. We have served hundreds of customers, among which the terminals cover major leading brands in domestic and foreign consumer electronics, lithium batteries, and photovoltaics. At present, we are sparing no effort to promote refined product solutions based on subdivisions, and to use our products and services to empower more fields. From semiconductor/panel to automobile/railway, and from plastic/film to food/textile, we will strive to contribute to cost reduction and efficiency improvement in even more industries.
With rising labor costs and product quality upgrades, industrial automation has become an unstoppable trend. With our years of experience in 3D industrial sensor research and development, SINCEVISION has developed a comprehensive research and development platform involving optics, mechanics, electricity, and software, as well as a mature production and quality control system. In the future, we will spare no effort to improve our R&D platform and build a world-class industrial product R&D team. Through the ultimate ingenuity of the SINCEVISION team, we will continue to tackle high-end sensors, so that China's automation industry has domestic products available and a national brand that can be trusted.
In addition, the company attaches great importance to localized services. In order to provide customers with convenient service that responds quickly and communicates clearly, we have set up many offices at home and abroad.
Domestic: Suzhou, Shanghai, Wuxi, Beijing, Chengdu, Shenzhen, Taipei
Overseas: Seoul, Hanoi (Vietnam), Delhi (India)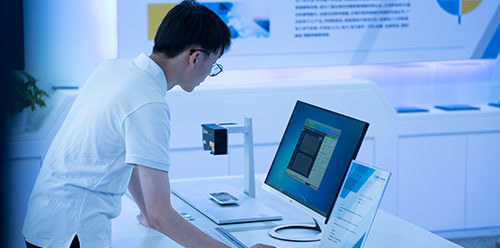 Core Competitiveness
High resolution: The 3D line laser sensor SR9000 series has an industry-leading ultra-high resolution of 6400 dots
High precision: The Z-axis repeatability accuracy of the line laser series is as high as 0.1μm.
High Dynamic: Simultaneous and precise measurement of low-reflectivity black objects and high-reflectivity metal objects
Diverse product matrix: Independently developed line laser, point laser, point spectrum, and other 3D sensor product series, with up to 52 product models, a field of view covering up to 1600mm, and the Z-axis repeatability of up to 0.006μm
Independent product research: We hold 67 invention patents, 78 utility model patents, 73 software works, and so on, and can provide product customization services